1234 sound like Charles Bukowski getting into Diana Ross and the Supremes and deciding to write indiepowerpop songs instead of poetry....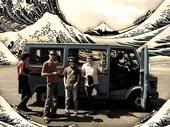 ...and who am I to argue with their own description of themselves?
Of all the bands I've written about, 1234 seem to be recommended by a hell of a lot of people, but no-one really seems to know much about them... Maybe that's due to their lack of website and smewhat sparse Myspace profile. Pretty much all we know about 1234 is that they're based in Copenhagen and that...well... there are 5 of them. Sometimes, I guess, it's better to let the music to speak for itself, and it more than does....
"Saddest" is, quite possibly, one of the best pop songs I've heard in a long time, whilst "Demons", which is full of jangly guitars and handclaps went down a storm when I premiered it whilst DJ'ing at a friend's party in a particularly trendy part of London (along with
Charlie Don't Surf's
"Breakthrough", Swedish/Danish band
Kids of The Ranch's
"Indie Boys are Neurotic" and Norwegian band
Gestapo Bitches'
"Danish Boy" which deserves a link just because it's about...ermm...Danish boys)... I really can't argue with their own description of themselves (why meddle with a description that good?) so I'll let you take a look for yourselves:
They've got ex-Hefner front man Darren Hayman (who I very occasionally cross paths with in London) in their Myspace top 4 (and, if I remember correctly, supported him on one of his Danish shows)... if they can create anything like the amount of devotion that Hefner did (and believe me, I saw it all first hand) then they'll go as far as they deserve to go.Unfortunately I arrive in Copenhagen the day after they next play at Rust, which means I won't get to see them...
Sadly my (frankly quite appalling) Danish doesn't go so far as being able to translate the
Soundvenue
piece about them.... They've also been selected by
Liga
as a tip for the future, so it's worth watching them...
Go and take a look at their
Myspace
, join the cult and be transported away in the time it takes to say 1...2...3...4...