Sweet as honey, smooth as silk...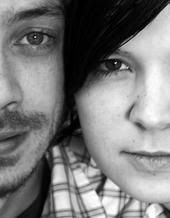 And so from Aalborg and Roskilde, we go back to Copenhagen.

Munck//Johnson is a Danish duo, consisting of singer Camilla Munck and musician Moogie Johnson (who, interestingly, once filled in on guitar for Diefenbach- a band pretty different from Munck//Johnson). After meeting in 1999 as part of the critically-acclaimed alt-country act Wynona, Munck//Johnson decided to go it alone five years later...

In 2005 Munck//Johnson signed to Copenhagen darlings PonyRec, the re-released their debut album ("Unlike you", the band's own label Laura Lee Records, 2004). Second album 'Count Your Blessings' was released on Denmark in February 2006 to (well-deserved) rapturous applause all round.
It's not often that hearing a band for the first time gives me shivers down my spine (it has to be something very, very special), but Munck//Johnson did. The tunes are sparse and minimalistic, haunting even, but punch way beyond their weight in terms of impact. I've always thought that"Ease Me" would make perfect movie music- you can just imagine the scene- a mourning lover dressed in black staring longingly out of a window on a window seat, wondering what to do with her life... In terms of references, I really can't think of many. Rosie Thomas, maybe (but she's a little bit too... well...she's missing the haunting quality) or... I'm lost for words for once...
Munck//Johnson are perfect for the middle of the night when you can't (or won't) sleep and need some time to think. It's perfect journal writing music for those times when you want music to think to.
MP3s...